Fantasy Factor
With the Fantasy Factor desktop application, you can play daily fantasy sports contests either for free of for real cash prizes. FantasyFactor provides one-day fantasy sports contests featuring individual professional sports games like hockey, football, basketball or baseball, available in varying league sizes (from three players sit-and-go to large tournaments) and price points.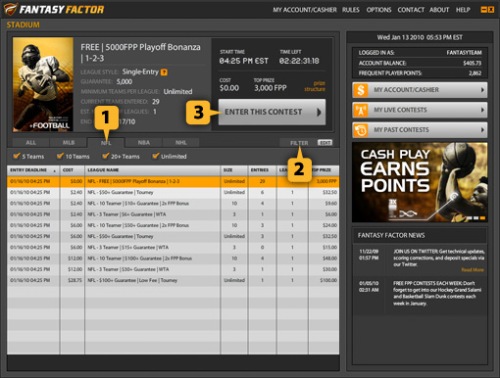 Fantasy Factor is a straightforward and easy to use application that does what it promises. They have a growing community of fantasy sports games and tournaments. The randomization process is a unique feature which reduces the waiting time when joining a contest, compared to other similar apps. It may take a bit of time to get used to this AIR application as there are many options and features involved, but after getting acquainted with it, it is a fast and enjoyable way to get involved with fantasy sports.
It you are concerned with the legality of this type of game (as this is related to money betting), yes it is legal for you to participate. These fantasy sports contests comply with the requirements for games of skill and not of pure luck. They are legal for most U.S. and Canadian citizens to play, just make sure you are of the legal age according to the laws of your location. The game is not opened to players less than 18 years old.
FantasyFactor was created by John Zaleski. John is a pioneer in the fantasy sports industry who has been involved as an operator since 1988, including as the co-host of "Fantasy Fever" Internet Radio show. John is one of the twelve founding board of the Fantasy Sports Trade Association.
Check these other cool AIR apps