Solo Hold'em Poker
With the Solo Hold'em Poker fresh air application, you can play a fun variation of solitaire poker based on the Texas Hold'em variation of the game. Texas Hold'em is a form of poker where each player has only two cards called hole cards. And every player share five community cards that can be used with their own card to make the strongest possible hand.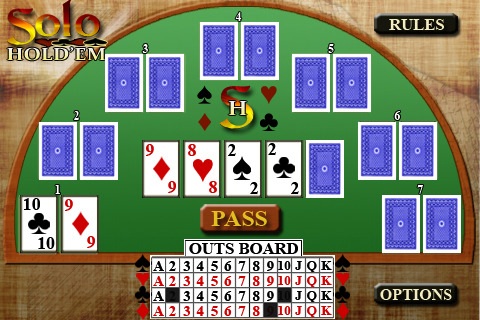 You can play or pass your hands. If you keep a hand, you have to beat the remaining hands. If you pass, you must at least beat that hand. There is an "Outs Board" (the table in the lower part of the picture) that shows all exposed cards and tells which outs to avoid or to hope for.
Solo Hold'em Poker does not involve any betting of real money, so if you are concerned with the legality of this type of game (as this is related to gambling), there is no problem whatsoever. But note that it is rated 12+ because of "frequent simulated gambling". This game can be fun but if you are interested in wagering real money, then you need to join an poker room such as Absolute Poker rakeback. But be careful and remember that most players do not make money at these online poker games. The ones alway making money are the online poker rooms themselves.
When we tried the game, it was a fast and very exciting game. It is certain that it will become the favorite gaming mobile application for more than one fan. The graphics are well done and it has nice sounds when the cards are dealt. It only costs $2 to download.
Solo Holdem Poker was released in May 2010 by Kenny Schuyler who is an avid poker player who participates in some of the major poker tournaments. It is compatible with iPhone, iPad and iPod touch.
Visit the itunes website for downloading the holdem poker application here.
Check these other cool AIR apps