Cirque du Soleil
Cirque du Soleil has developed a promotional desktop widget running on AIR, with videos, news and a gorgeous photo gallery.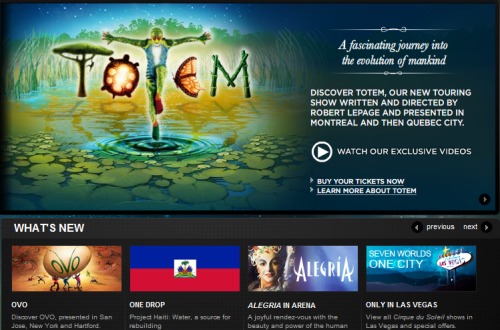 The widget can be grabbed here. This application let you stay up to date with the latest shows and news by Cirque du Soleil. You can install the widget on your website or download it to your desktop by simply grabbing it. This will be a nice feature for entertainment related blogs.
Cirque du Soleil was founded in 1984 by Guy Laliberté, who is also known for being a high stakes poker player who appeared on the TV shows "High Stakes Poker" and "Poker After Dark".
It can be said that Guy Laliberté has reinvented circus, not just once, but every year, as they keep on adding new shows all over the world and creating new events, like Zaia, Varekai, Viva Elvis and many more. Each show has its own central theme and storyline, bringing circus styles from around the world.
Cirque du Soleil is the largest circus in the world with over 4,000 employees. Their main attraction is based in Las Vegas where they run 7 shows at various hotels like the Bellagio or the Mirage. 5% of all visitors to the Sin City see one the Cirque du Soleil shows.
So if you want to get informed about everything related to the Cirque, this widget is for you.
Check these other cool AIR apps