National Geographic
National Geographic offers a great value with their Adobe AIR application. As their offer consists of all their monthly magazines since creation of the series in 1888, all in one single application. The newly released application was built by EffectiveUI and powered by Adobe AIR. It includes the complete collection of every issue of National Geographic magazine, digitally reproduced in quality high resolution.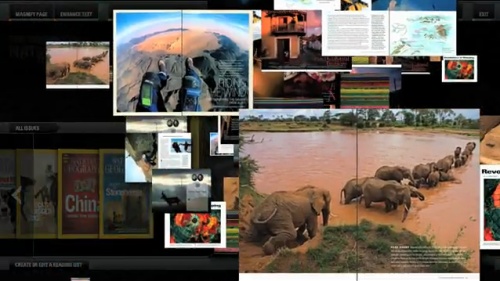 If you are familiar with National Geographic, then this cheap product offer is very attractive, given the wealth of information and the beauty of the photographs and maps in this quality magazine. The AIR application let you easily not just access any article, but you can also do a search by topic, search photos, get articles from a map and more.
By offering all past issues in one easy to browse application, National Geographic is an example of the powerful applications made possible with Adobe AIR. You can create your own read lists, make various queries by keyword, topic or author name, use the geobrowse function to search the globe for favorite articles, consult hundreds of maps, take quizzes to test your knowledge, etc.
A tresure for all lovers of nature and the world. A great gift idea.
Check this youtube National Geographic video to have a preview of how the application looks like and what it has to offer. For this price, this is a real no brainer.
Check these other cool AIR apps